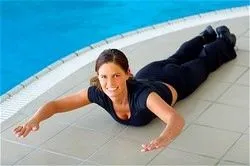 Dr. Ryan Rock and the team at Rock Family Chiropractic are committed to helping the residents of Eudora, KS, achieve optimal health, wellness, and recovery through therapeutic exercise and various other natural and effective techniques.
Role of Therapeutic Exercise in Recovery and Wellness
When you visit a chiropractor, a treatment plan will be developed that includes several techniques to address your individual needs. Therapeutic exercises are typically included. Why are they part of your treatment plan, and how do they benefit you? Dr. Rock and the team at Rock Family Chiropractic in Eudora, KS, explain below.
The Purpose of Therapeutic Exercises
Therapeutic exercise is a bit different from working out to lose weight or get in shape. Instead, these exercises are intended to correct a specific issue in your musculoskeletal system. In short, they focus on improving or restoring physical function – or preventing it if there is a potential issue detected.
Chiropractors add such exercises to treatment plans to achieve optimal results. A herniated disc is often caused by misalignment of the spine, and that misalignment is often caused by poor posture. Chiropractic adjustments and decompression therapy help restore alignment and relieve pressure on the disc, but the issue can happen again if posture is not addressed.
For some people, poor posture simply comes from a lack of attention or knowledge of what it can cause. For others, it occurs due to weakened muscles.
In either case, therapeutic exercises can strengthen the muscles that support proper alignment, which can make proper posture much easier to practice. This is just one example of how therapeutic exercises are utilized in chiropractic care.
Benefits of Therapeutic Exercises
Adding therapeutic exercises to chiropractic care plans can provide many benefits, including:
Improved blood circulation
Improved balance and coordination
Muscle tension relief
Better range of motion and mobility
Pain relief
Better joint function
Injury prevention
Improved muscle strength
Increased flexibility
Therapeutic exercises can also reduce symptoms of ongoing health issues, such as osteoarthritis. When visiting our team, you'll not only receive a comprehensive assessment of your musculoskeletal health, but we'll also gather information about any other symptoms, concerns, and goals you might have.
Through the assessment and the information gathered, Dr. Rock can devise a comprehensive treatment plan that includes the best techniques and therapeutic exercises for your needs and desires.
If you're living in pain, want to achieve optimal wellness, or have specific health goals in mind, Dr. Rock and our team at Rock Family Chiropractic in Eudora, KS, are here to help through personalized treatment techniques, including therapeutic exercise and more. Call (785) 542-2118 to schedule your appointment today.
---
PARTIAL SIT UP
Partial sit ups are recommended for people with back pain. The same muscle groups are worked out without putting stress on the lower back. You will start just like a regular sit up with your back on the floor, both feet on the floor, and your knees bent. Raise your head, neck, and shoulders off of the floor and hold that position for 5 seconds. This exercise will strengthen your core and is simple to do. Repeat as many times as you can, with a goal of increasing your reps each day.

KNEE TO CHEST
You start this exercise the same way like the partial sit up. Begin the exercise by drawing one of your knees to your chest, using both hands (only one foot is now on air). Hold to the count of 10, then slowly release it to the rest position. Do 4-5 repetitions, and then repeat with your other leg, then both legs at the same time. This exercise stretches your glutes and back.

HIP ROLL
Start this exercise flat on your back with your arms extended out to the side. Bend your knees and lift your feet off of the ground. You will now rotate your hips to the side so that your legs become parallel with the floor. Rotate from side to side for 5-10 repetitions. This is another core exercise that strengthens your abdominal muscles.

LOW BACK EXTENSION
Start by laying flat on your stomach with your hands to your side. Lift your head and upper body off of the ground by using the muscles in your lower back. Hold this position for 4-5 seconds and then lower yourself back down. Repeat 10-15 times.

CAT-CAMEL
Position yourself on all fours with hands directly beneath your shoulders and knees directly beneath your hips with your back straight. Use your abdominal muscles to push your back towards the ceiling, arching it like a cat. You should notice your head will point down towards the floor. Next, drop your back so that your lower back extends. Your head should raise when doing this. Make sure to keep your elbows straight the entire time, the only movement should be in your spine. Repeat this 12-15 times.

BACK EXTENSION
This exercise is best performed with a stability ball. Lay with your stomach on the stability ball with your hands behind your head. Tighten your abdominal muscles and use your lower back muscles by contracting your glutes to lift your shoulders and chest off the ball.

SUPERMAN
Lie face down with your arms extended above your head. Tighten your abdominal muscles and lift your arms and legs off the ground. It should look like you are in a Superman like flying position. Hold this for about 30 seconds and then release. You may be tempted to hold your breath when clenching your abdominal muscles. DON'T! Control your breathing while holding this position.

DOUBLE LEG LIFTS
Using a stability ball, lay face down with your hands on the floor in front of the ball. Raise both legs off of the floor until your body is horizontal and hold the position for about 10 seconds. Lower your legs back down to the floor and repeat 5-10 times.

SPINAL ROTATION
While seated in a chair, reach one arm across your stomach and grasp the opposite side of the chair. Look over the shoulder while rotating the low- and mid-back. Hold for 15-30 seconds.

EXTERNAL SHOULDER ROTATION
Start by lying on your right side with your right arm folded under your head. Your upper left arm should be parallel to your torso, bent at the elbow so that your forearm is lying across your stomach with your hand on the floor. By rotating your left shoulder, raise your forearm so that it is perpendicular to the side of your body. Switch to your other side and repeat. This exercise can also be performed with a dumbbell.

INTERNAL SHOULDER ROTATION
Lay on your right side, like in the external shoulder rotation, but keep your right hand free this time. Keep your right arm next to your body and bend at the elbow. Rotate your shoulder to move your forearm. It will start flat on the floor, and then you will rotate it into your body so that your forearm is flat across your stomach. Repeat this motion 10-15 times and use a dumbbell if you prefer.

LATERAL DELTOID RAISE
Start with your arms to the side of your body, palms facing the thighs. Tighten the abdominals, bend the knees slightly, and position the feet about shoulder-width apart. Raise your arms straight out to your side until they are shoulder height. Hold that position briefly, and slowly return your arms to your sides.

FRONT DELTOID RAISE
Start with your arms in front of your body, palms facing the thighs. Tighten the abdominals, bend the knees slightly, and position the feet about shoulder-width apart. Raise your arms straight out in front of you until they are shoulder height. Hold that position briefly, and slowly lower your arms.

SINGLE-ARM LAT PULLDOWN
Begin with both hands overhead holding an elastic resistance band. Engage the abdominals, bend the knees slightly, and position the feet about shoulder-width apart.

Pull downward to the side with one arm, adducting at the shoulder until the upper arm is next to the torso. Pause, then return slowly to the starting position. Keeps your arms slightly in front of the face to protect the back and shoulders.

STABILITY BALL PUSH-UPS
Start with the ball under your stomach and your hands on the floor in front of you. Roll forward slowly until your shins are balancing on the stability ball. Now perform pushups as your normally would by bending at the elbow.

SIDE LUMBAR BRIDGE
Lie on one side with your legs straight. Support the upper body by keeping the elbow directly beneath the shoulder. Being careful not to let the top hip rotate forward, engage the abdominals and use the torso to lift the hips. Hold this position for 10 to 15 seconds, maintaining a neutral neck and spine position.

SINGLE-LEG REVERSE CURL
Lie on your back with one knee flexed and foot flat on the floor and the other leg straight out slightly raised off the ground. Extend arms flat along body and maintain neutral alignment in the cervical spine.

Lift the working knee and leg in an upward diagonal direction over the belly button. Pause, then slowly lower the leg to the starting position. Repeat with other leg.

CRUNCH W/ STABILITY BALL
Lay down with your back on the stability ball and your hands behind your head or folded across your chest. Maintain a backwards-pelvic tilt and raise shoulder blades off the ball, return to the starting position, and repeat.

NECK FLEXION
Stand facing the wall and hold the stability ball at forehead height. Use your neck muscles to push your forehead into the stability ball. Relax and repeat.

NECK EXTENSION
Stand facing away from the wall and hold the stability ball behind your head. Push back of head into the ball.

NECK LATERAL
Stand sideways to the wall. Hold the stability ball above your shoulder at the side of your head. Push side of heads laterally into the ball.

Neck Stretches

Bring your ear to your shoulder
Let your neck to sit in that position for 5 to 7 seconds
Force your ear toward your shoulder.
Feel the stretch of your neck muscle on the opposite side.

Same principle as the exercise before...
Bring head back as if you are looking toward the ceiling.
Feel the stretch in the muscles located on the front part of your neck.


If this exercise causes dizziness, fainting or loss of balance… STOP THE EXERCISE AND CONTACT YOUR PHYSICIAN.
Rotate your head toward your (R or L) shoulder and then
Nod your head down and you will feel a stretch on the opposite side of which you are looking. Just hold for a few seconds and repeat.

Neck exercises for strength
Put your hand on your forehead and force your forehead against your hand to provide resistance. You can do this in several sets of 6, 8, or 10 repetitions.
Place your hands on the back of your neck and force your head back while providing resistance with your hands.


Do these exercises in several sets of 6, 8, or 10 several times a day and you will be surprised at the amount of flexibility that returns in a couple of months.